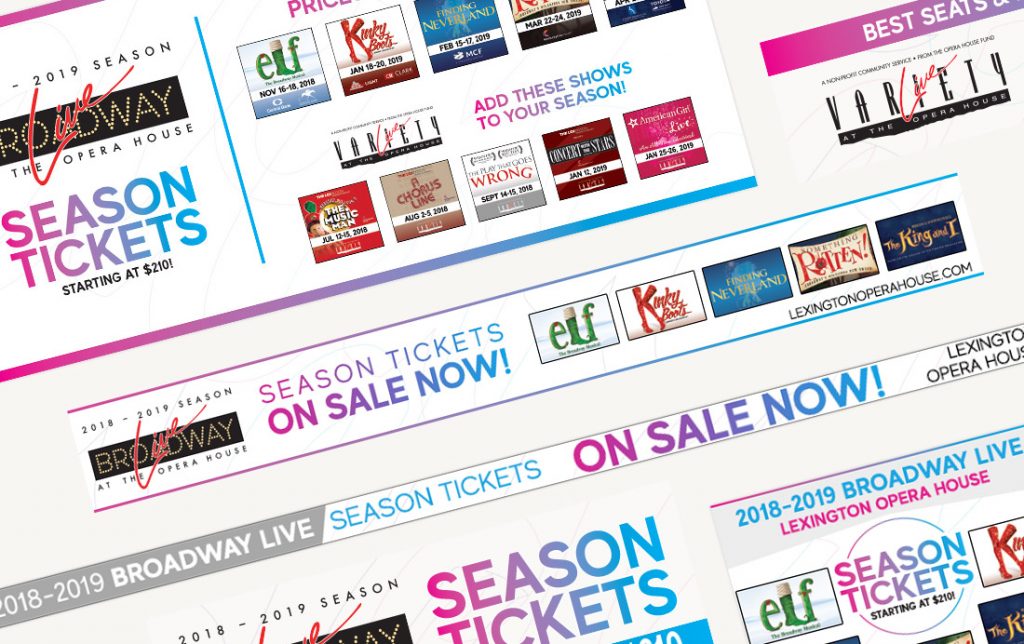 DIGITAL DESIGN
Every year, the Lexington Opera House offers packages to their latest Broadway Live season.  The Broadway Live season features several national touring Broadway shows.  I created digital assets for the season tickets on-sale based on the Broadway Live season brochure.  This included digital ads, landing pages, eBlasts, and website graphics.
Please note:  The digital assets were based on the season brochure design created by Paul  Hooper. All event artwork copyright original artists.  
Utilizing the design and assets from the Broadway Live 2018-2019 brochure, the goal was to create digital assets to promote the season tickets on-sale. This included landing pages, digital ads, website graphics, and multiple eBlasts.   
Much of the season tickets landing page remained unchanged from last year's page.  I created updated graphics and updated all essential information.
We utilized digital banner ads for the season tickets on-sale.  These banner ads were displayed across various websites via a display network.  Came from codes were utilized to track conversions and monitor the campaign.  
Broadway Live 2018-2019 is just getting started.  We'll continue to design digital ads, landing pages, eBlasts, etc. until the end of the season… then it starts allover with a fresh "coat of paint" and new shows! 
If you're interested in seeing more, head on over to the Broadway Live page.  New creative usually ends up there or on the main Lexington Opera House home page… Who knows? You may just end up running into one of our display or social ads while casually browsing online!